Food Journal for a Week of Eating in Charlottesville Virginia, Chicken Soup for Immunity, Evolved Chocolate, New Label Design for my Anxiety Supplements, Snacks at Polo, Lots of Juice Laundry Coco Verde Green Bowls, Monty's Cashew Cream Cheese and Vegan Butter, and Dry Farm Wines Sugar Free Wine!
Jun 30, 2021
I am back in Charlottesville all settled in from all that travel and arrived home to so many cool packages. I had a fantastic week with great food and so many fun things to do here in Charlottesville during the Summer like hiking, walking on the downtown mall, playing tennis, and more!
I am also so excited to share the new labeling for my Anxiety-Free Supplements! The supplements are from a scientifically derived formula to help reduce stress and anxiety, and promote a happier mood, and nervous system and immune system support. When you join the mailing list on the website, you can receive 10% off your order. Also, be sure to check out my book Anxiety-Free with Food filled with tips and recipes for science-based and natural ways to support your mental health and live without stress.
I fasted for a few breakfasts this week, but I made eggs and bacon or pancakes when I did not fast. The eggs were all pasture-raised eggs from Vital Farms and the organic turkey bacon and sausage came from Apple Gate. Vital Farms uses sustainable farming methods and ethical food production. Additionally, Apple Gate produces products from animals free of antibiotics or hormones, products from animals that are 100% grass-fed, and free of artificial ingredients or preservatives. The pancakes were all gluten-free and I used Monty's plant-based butter on top! Oh my gosh, it's so delicious and the ingredients are all so clean! Monty's is preservative-free, dairy-free, non-GMO, and gum and filler-free! I am now an affiliate so you can get a discount when you go to their website and use code: LIANA for a 20% discount!! I used Hu Kitchen chocolate gems for chocolate chip pancakes too! All of their chocolate products are organic and made from house-ground cacao. Additionally, their products are dairy-free, gluten-free, soy-free, no GMO's, no refined sugars, and no sugar alcohol.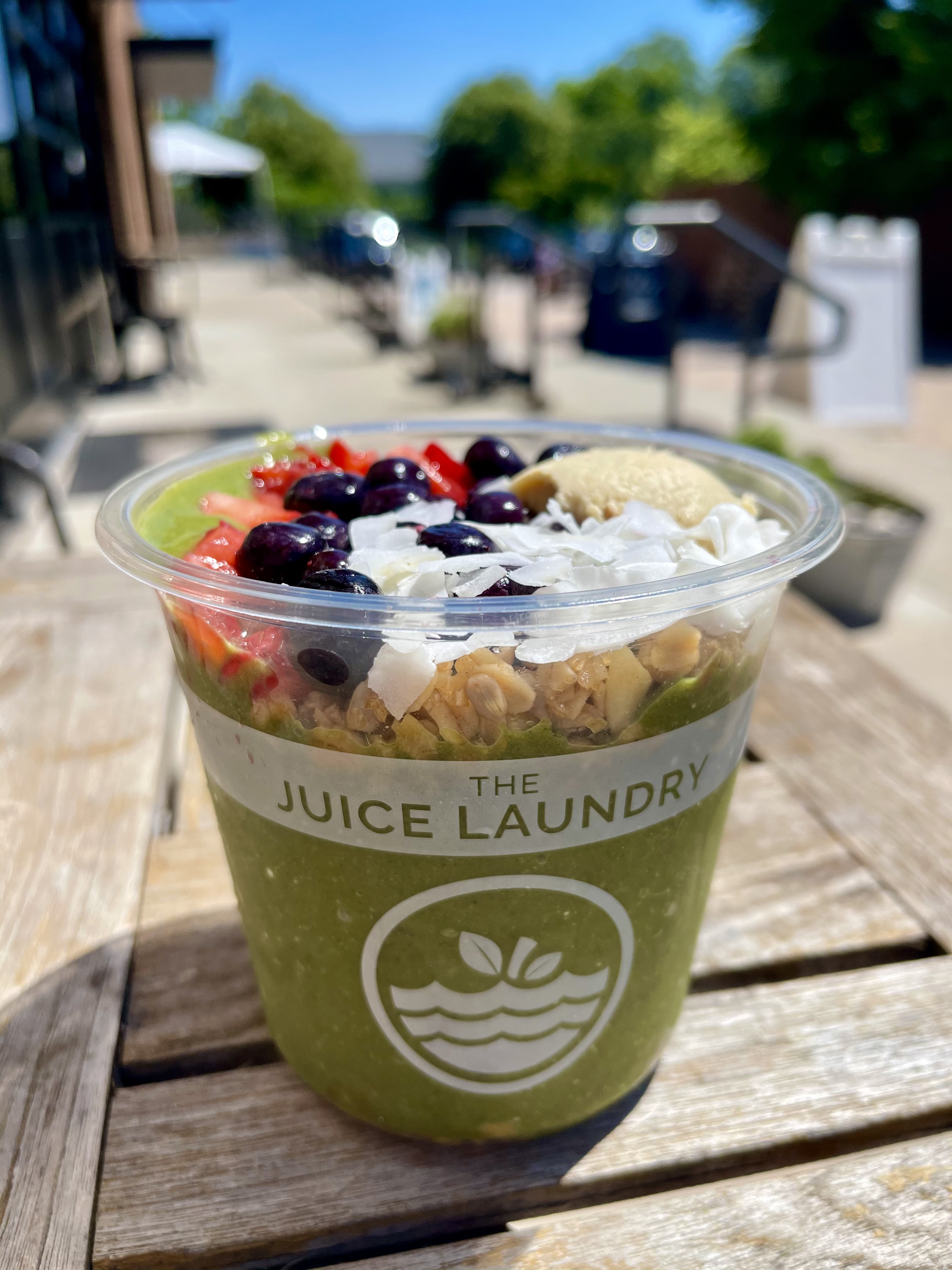 I was so excited to get back to Charlottesville for Juice Laundry and my favorite Coco Verde Green Smoothie Bowls!! This week I tried their vegan chili, a Monster smoothie, and their chocolate chia pudding! All of Juice Laundy's products are plant-based, organic, and made with simple ingredients. The Coco Verde bowl is made with kale, spinach, mango, coconut oil, banana, dates, coconut water, and I change up my toppings from day to day! I love all of their products and they have so many options from cold-pressed juices, oat bowls, smoothie bowls, salads, and more!
I was so excited when I got home to see I received a healthy package from Evolved Chocolate! I love this chocolate so much! It's organic as well, and they have sugar-free options too. The cookie dough is my favorite! I can't forget about the almond butter cups because those are amazing, omg! I love eating it with sliced almonds too. That combo of nuts and chocolate wow!

Another one of my favorite healthy snack options is Imlakesh Organics Sacha Inchi! Imlakesh Organics creates certified organic, regeneratively grown, and ethically traded products. They have many more products such as; cacao nibs, wafers, powders, goji berries, golden berries, and so much more!!
Here are some of my snacks and meals at home for the week! When I first got back home I had a lot of chicken and vegetable soup. This helps when my immune system is feeling weak and bone broth is beneficial for not only immune support, but digestion, gut health, and provides other nutrients to help the body. Next, I made toast and put some more of my Monty's plant-based butter on top! Their ingredients are amazing and so simple, just organic coconut oil, almond oil, organic cashews, filtered water, and sea salt! That's it! Another day, I tried the Hu Kitchen pizza flavored crackers with hummus and it was so good! Their new crackers come in all sorts of flavors and are organic, grain-free, gluten-free, dairy-free, soy-free, uses no refined sugars, no gums, no sunflower oil, no seed or vegetable oils, no tapioca, and no refined starches! For a sweet treat, I have been eating so many cherries and I am so happy that it is finally cherry season!! Lastly, I threw together some vegetables for a quick and easy snack!!

Earlier in the week, I made a new recipe for Cookie Dough Chocolate cups! I used Sunbutter to make the cookie dough moist and delicious without needing to use an egg. I will be sure to share the recipe in a few weeks!
I did an Instagram Live session with Dr. Rob Graham from Fresh Med NYC and we discussed how to revitalize the nervous system and what exactly is the nervous system.
Dinner one night was Explore Cuisine edamame spaghetti with chicken and Bragg amino acids with honey and sesame seeds. I know it doesn't look the most appealing but was delicious!
I have made lots of green juice this week, one every day!! I use my Nama Well juicer with cold-pressed technology and if you go to their website by clicking here and use code: Liana you can receive a 10% discount!!!

On Friday night, I went to After 5's in Charlottesville at the pavilion downtown and enjoyed some wine from Dry Farm Wines! I am so excited to finally find a healthy organic wine company, I just wish I had known about Dry Farms Wine earlier in my life!! If you have been searching for a healthy but still delicious wine check this out... keep reading to get a bottle for 1 cent!! Dry Farms Wine has an incredible variety of red, white, rose, and sparkling that is organically grown, sugar-free, and with no additives. They have unique selections of pure natural wines from around the world conveniently curated and can help you pick your favorites. From biodiverse vineyards to antioxidant-rich grapes, their pure natural wines express a completely unique wine experience. I was shocked when I heard that most wines sold today are mass-produced products, which can include high levels of sugar, alcohol, and 76 FDA-approved additives! If you are out and drinking wine and it's really sweet, it most likely has had a lot of added sugar to it - even if it doesn't say so on the label. Another thing that surprised me was that winemakers are not required to say if they've added sugar. Pure natural wine is rare. Dry Farms Wine estimates less than 0.01% of the world's wines meet their strict criteria! Dry Farms Wine source wines according to their uncompromising criteria of farming and purity. They vet every grower, taste every wine, and ensure every wine is lab-tested through an independent enologist. Every bottle in their collection is organic, biodynamic, vegan (most wines are not vegan. The reason that all wines are not vegan or even vegetarian-friendly has to do with how the wine is clarified and a process called 'fining'. Traditionally the most commonly used fining agents are casein (a milk protein), albumin (egg whites), gelatin (animal protein), and isinglass (fish bladder protein), sugar-free (<1g/L), friendly to keto & paleo, free of toxic additives, and lower sulfites (less than 75ppm). I have partnered with Dry Farm Wines to get you guys your first bottle for 1 cent!!! Now you really have nothing to lose! I'm so excited for you to experience this tasty and healthy wine, enjoy guys! If you follow this link http://www.dryfarmwines.com/liana, it will say "Collect your penny bottle", enter your email and select a membership of every 1 or 3 months or bimonthly!
On Saturday night, I had dinner at Bizou on the mall in Charlottesville. It was such a pretty night and I had the best pasta dish made from homemade pasta. I appreciate restaurants who hand-make their own pasta!
Sunday morning, I went to church on Sunday at The Point and they had a beautiful service. The sermon and the message of it was a great reminder that we are spiritual beings having a human experience. This was the perfect way to start a Sunday!
Later in the afternoon, we went over to King Family Vineyards for their Polo Sunday. It was an amazing day with incredible weather and it was so great to see Connor Deal, the fan-favorite player in action. The vineyard does have a policy of no outside drinks but you are able to bring your own food and snacks. So I brought pizza and sushi from Wholefoods and Lesser Evil Snacks for when I am craving Cheetos! These are an excellent upgrade and replacement to the alternative because they are dairy-free and the ingredients are so much healthier and cleaner. Additionally, they make a variety of snack options like popcorn, paleo puffs, cookies, veggie sticks, and more! I also brought organic cherries because summertime means cherry season so definitely get them in! They are high in vitamin C and antioxidants, are anti-inflammatory, and great for aiding weight loss. Another good snack option for a busy day when you are on the go is Sunbutter to-go packs, which are great with crackers, fruit, or by themselves! Their products are made from sunflower seeds, provide ~7 grams of vegan protein, GMO-free, and free of peanuts and tree nuts! Last but not least, I made sure to pack my anxiety-Free Supplements, which provide stress and anxiety relief and cognitive function support that lasts all day!

After polo, we went over to Pro Re Nata Brewery for the first time and it was so cool! They have made part of their seating in old shipping containers. Additionally, they have beers, ciders, and wines so there is something for everyone!
When I got home I made a quick snack and put chips on toast, it was my childhood dream meal and I still have it every now and then. I do make sure to buy organic salt and vinegar kettle chips and I put them on Base Culture gluten-free bread. Base Culture has all kinds of bread, sweet treats, butter, and other keto snacks!