Food Journal for the Last 2 Days in Aventura Florida, Found Raw Juce Organic Acai Woohoo! Juice & Java Chicken Enchiladas are Divine, Sunbutter Daily Snack, Supplements
Jun 18, 2021
It's my last two days in Aventura, Florida, and have had so much fun! I started each day with lemon ginger tea from Traditional Medicinals. The lemon ginger tea is beneficial for the digestive system and it is organic! Additionally, my throat was a bit inflamed this week from all the socializing and parties lately so I have been drinking extra ginger lemon tea to soothe and heal my throat. I have been drinking water with pHresh Greens, a raw alkalizing superfood. This is the easiest way to alkalize your body and its non-GMO, gluten-free, vegan, free of pesticides or herbicides, and no preservatives. My Anxiety-Free Supplements are a staple for starting the day. They are made from a scientifically derived formula to help reduce stress and anxiety, and promote a happier mood, and nervous system and immune system support. A new probiotic I have been taking lately is SBO Probiotics, which provides healthy digestive and immune system support! For a mid-morning snack, I have been eating Evolved Chocolate. Evolved Chocolate has been a favorite sweet treat lately because it is a gluten-free, soy-free, dairy-free, and organic brand. They also have spreads, butter, keto cups, and bars in so many flavors.
Another easy snack for traveling, especially at the beach are Sunbutter to-go packs. They are a great source of natural energy!
I got an amazing lunch at Juice and Java! I got the salmon salad, vegetable soup, and the chicken enchilada. They have locations all over southern Florida and I love their mission of treating and fueling the body well, without forgoing taste.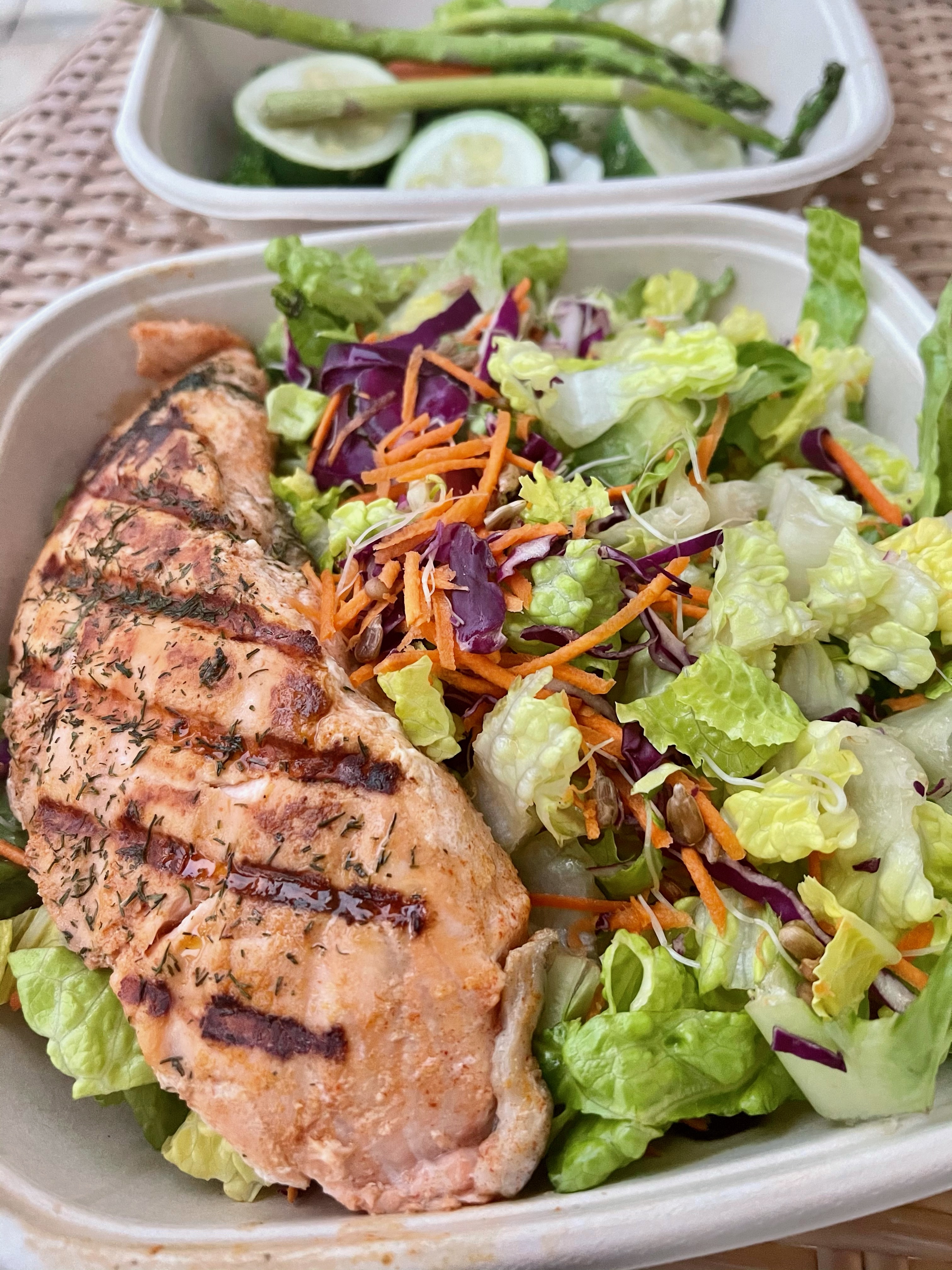 On the second day, I got lunch at Raw Juce and ordered their green juice and the black magic bowl! It is an açaí bowl with activated charcoal, which is great if you are craving a gut cleanse!
I have been loving Explore Cuisine gluten-free pasta for my meals. It is so easy, healthy, and easy to find at grocery stores. I just found these photos of their Risoni Red Lentil Rice, a grain-free option to rice! So delicious! They also have so many other grain-free options from soybean, to chickpea, to mung bean and so many more. They are perfect for a quick lunch or dinner!!