Traveling from Florida to Virginia Food Journal
Jun 22, 2021
I am finally heading back home to Virginia!
I fasted all day since I didn't prepare snacks for traveling and did not feel like eating airport "upgrades" like non-GMO airport food. I had my eye on getting home and eating amazing organic food there! But I did pack ginger tea and drank that all day with some hot water from the plane and airport. Ginger tea helps with digestive support, it is anti-inflammatory, helps ease headaches and migraines, full of antioxidants, and provides so many more benefits for the body. I took my Anxiety-Free Supplements when I got to the airport. They are a travel must-have to help manage any flight anxiety you could have. On top of stress and anxiety relief, they support cognitive function throughout the day. They are made from a scientifically-derived formula to help reduce stress and anxiety and promote a happier mood, and nervous system and immune system support.
We connected through the Philadelphia airport and were pleasantly surprised by how active and fun it is! They set up so much to do in between flights, like cornhole!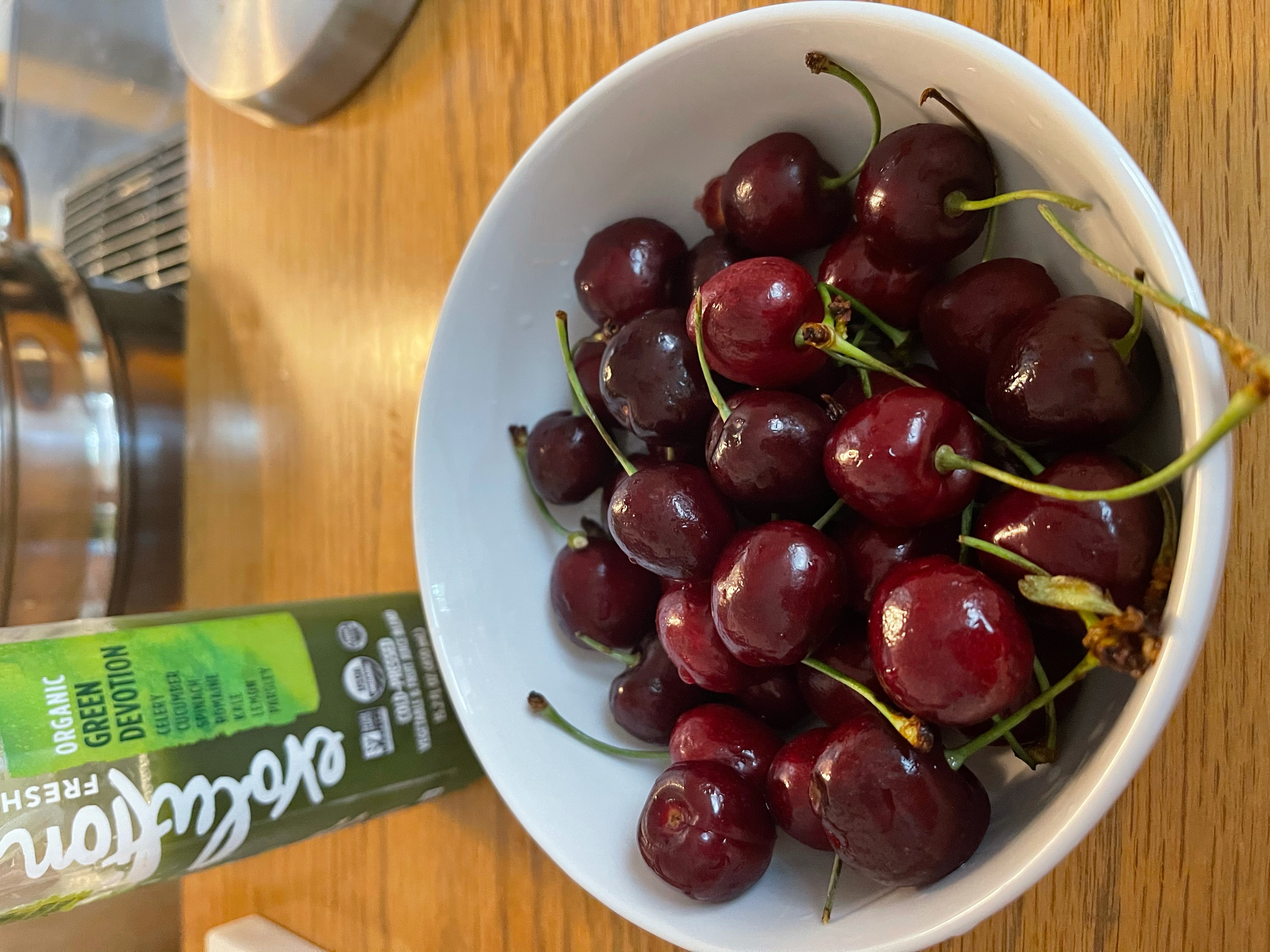 The first thing I had when I got home was green juice from Evolution Fresh and organic cherries. Yay for cherry season!!! Evolution Fresh offers organic juices and produces 100% non-GMO products.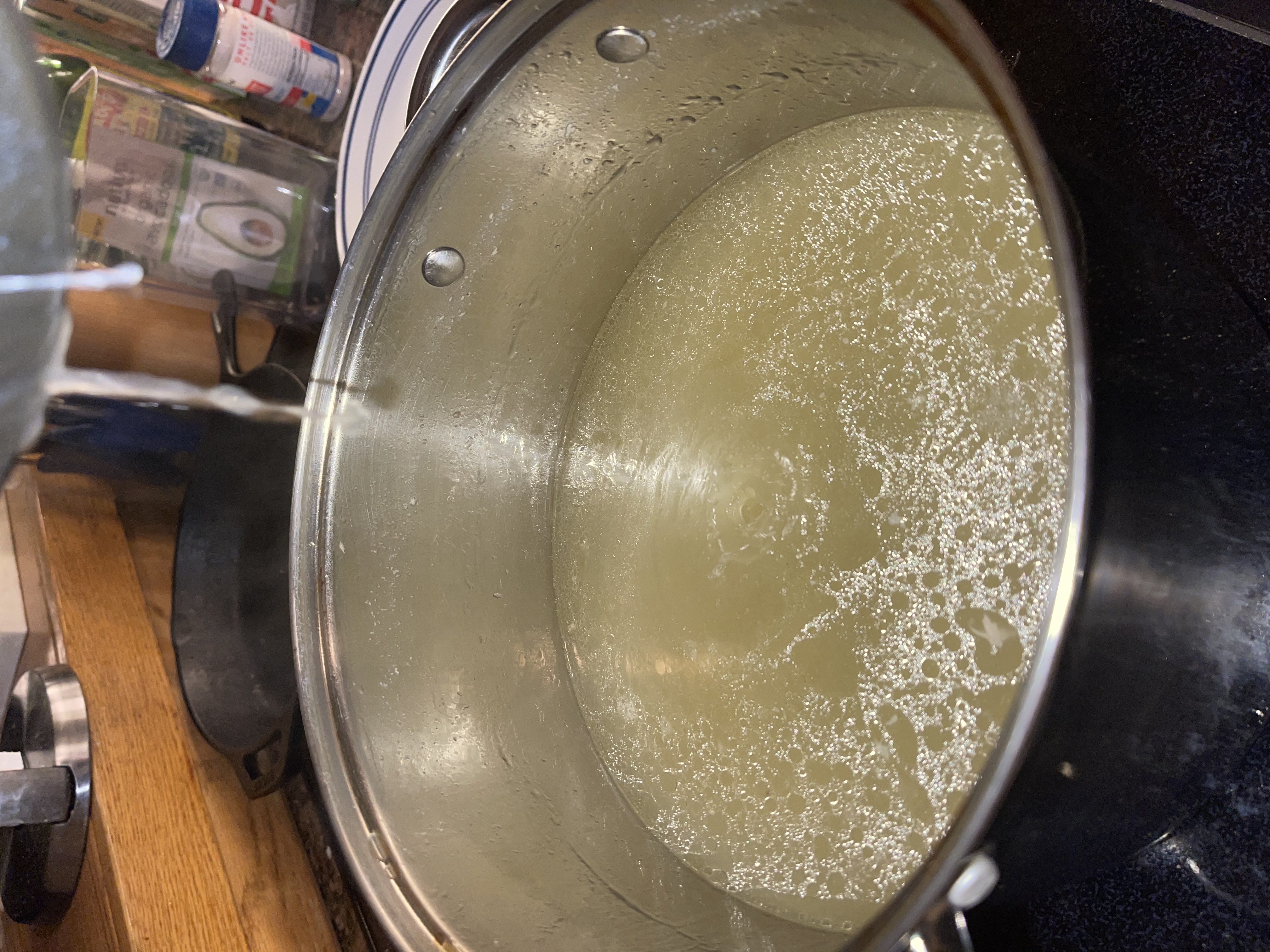 Later in the day, my boyfriend boiled an entire whole organic chicken for 5 hours and made bone broth with garlic and onion, which was perfect because my immune system was feeling a little under the weather. Bone broth is beneficial for immune support, digestion, gut health, and provides other nutrients to help the body. My favorite organic chicken is from Cooks Venture or Force of Nature Meats. Cooks Venture offers pasture-raised, non-GMO fed, antibiotic-free, organic meat. They advocate that healthy animals and a healthy environment are connected to healthy people! Additionally, they also use regenerative farming methods like Force of Nature. Regenerative farming benefits the environment by improving soil health and attempting to reverse the effects of climate change. The methods include expanding biodiversity, increasing organic matter in the soil, avoid using chemical pesticides, and more. Instead, methods such as crop rotation, livestock rotation, composting, no-till farming, and more are used. Force of Nature focuses on regenerative farming as well and produces grass-fed and finished meat.
I also had a Yes Bar, which is gluten-free, dairy-free, soy-free, GMO-free, vegan, and plant-based bar. They come in all sorts of flavors like today I had the Macadamia Chocolate Bar, but they have flavors like Macadamia Cherry, Strawberry Almond, Coffee N' Chocolate, and more!!! I tried Amy's Kitchen vegan and gluten-free mac n' cheese for the first time. It was decadent, delicious, and I cannot wait to eat it again. I kept it in the freezer until I was ready to eat and then heated it up. It was so easy and quick. Amy's Kitchen has other products too like pizzas, burritos, soups, and more. They have over 120 vegan options and over 100 gluten-free options. Lastly, I made some gluten-free chocolate chip cookies from Cappello's. They create grain-free/gluten-free pizzas, pasta, and cookie doughs. They use simple ingredients (that you can pronounce) like almond flour, cage-free eggs, coconut milk and oil, cassava flour, arrowroot flour, organic maple syrup, psyllium husk, unfiltered apple cider vinegar, tapioca flour, honey, and sea salt. Capello's has so many different pizza options, a variety of pasta, and several cookie dough flavors.
Sunday was Father's Day and also the first official day of summer in the USA!! Woohoo!! So happy father's day and happy summer.