Food Journal for the Week Includes New Cookie Dough Chocolate Cups Recipe, Matcha Tea, Explore Cuisine Red Lentil Pasta with Chicken and Spinach, Red Lentil Pasta Tuna Salad, Homemade Jam and the New Go Macro Bar Flavor!
Jul 11, 2021
I had an amazing week, made some awesome recipes, and tried some new brands!!
This is one of my favorite recipes for a homemade sweet treat! I made my cookie dough cups using this recipe from The Earth Diet website! They are so easy to make and only take around 40 minutes. I use some of my favorite brands, Sun Butter and Hu Chocolate in this recipe, too!! Sun Butter is a great nut-free butter packed with loads of protein. Hu Chocolate is a vegan chocolate brand made with 3 simple ingredients: organic house-ground cacao, organic cocoa butter, and organic unrefined coconut sugar.
I have been drinking a ton of Pique Matcha Tea this week and I am obsessed! Their matcha provides immune support, promotes radiant skin, and brings calm energy and focus. AND.... if you use the code 'LIANA' you will receive 5% off your first order!!!
I love using Explore Cuisine products, especially their red lentil penne pasta! It tastes just like regular pasta. Explore Cuisine has so many other grain-free pasta alternatives too! This week, I used the red lentil noodles to add to my homemade tuna salad! For this recipe, I used Primal Kitchen Garlic Aioli Mayo made with avocado oil and organic cage-free eggs. I love this brand because they create so many dressings, marinades, mayos, and any kind of sauce you can think of and make them with clean and simple ingredients.
I made homemade jam this week and added in Nutiva Chia Seeds and cannot wait to share the recipe with you all later. Adding chia seeds into your diet is amazing because the benefits are seemingly endless. Chia seeds are loaded with antioxidants and nutrients, a great source of fiber and protein, may help with weight loss, lower risk of heart disease and so much more! keep an eye out because I will be sharing the recipe soon!!!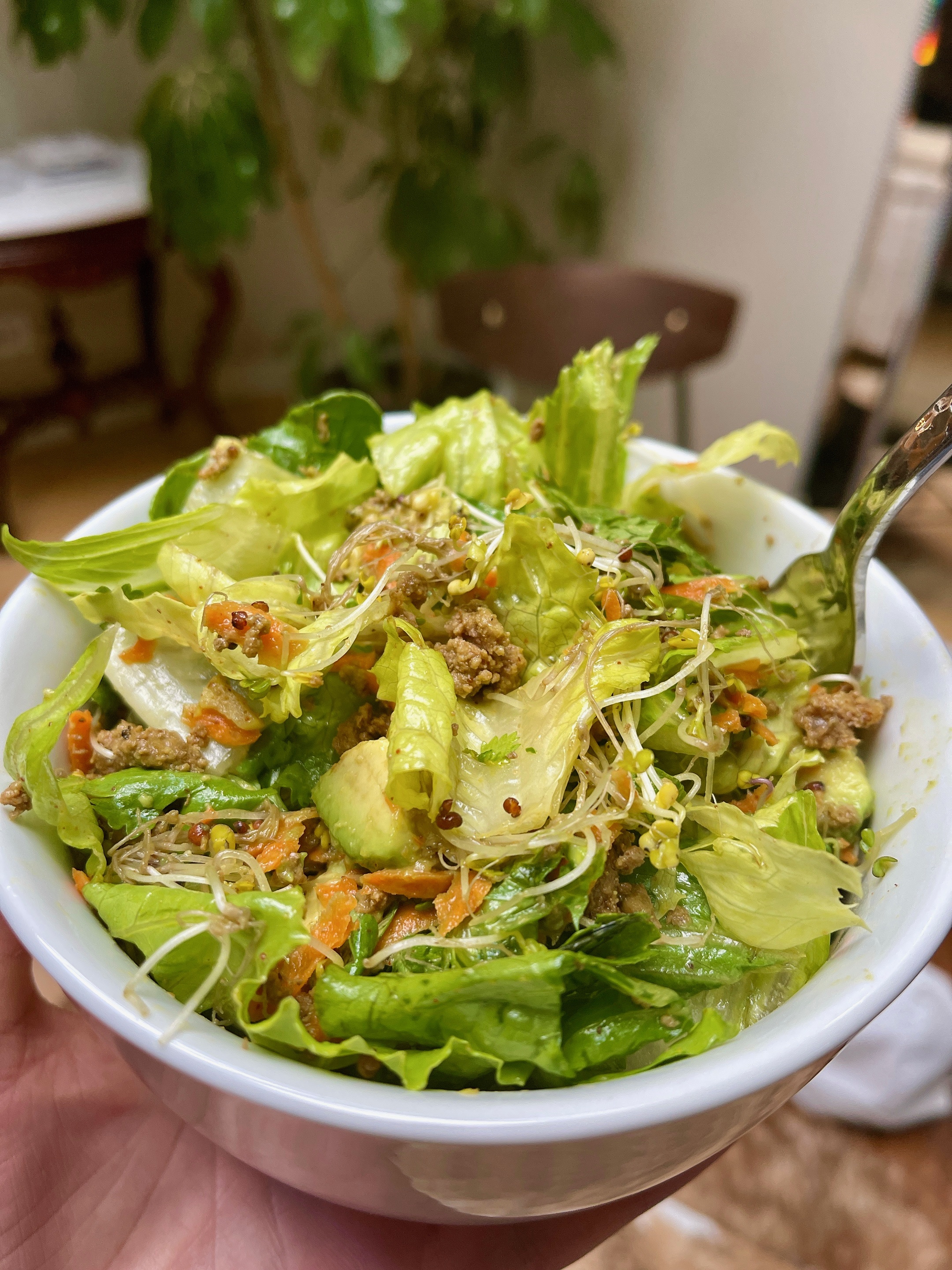 Some more quick and easy meals from the week were salads with salmon and chicken and I added broccoli sprouts for some more greens and added nutrients. These meals were so quick, so yummy, and so filling.
I made a ton of roasted vegetables this week for some in-flight snack options because I am headed to California!!! I will be sharing updates from my trip soon!
This was such a great, informative read of the week from Dr. Steven Eisenburg called Love is the Strongest Medicine. Dr. Eisenburg is a triple board-certified physician in internal medicine, medical oncology, and hematology. He has done extensive research and his book gives advice and tells stories from a doctor's experience and encourages everyone to return and seek out traditional medical practices.
I tried some amazing new products this week and here are some of my favorites. The Go Macro Lemon Bars are amazing and I love this new flavor. Their bars are organic, vegan, gluten-free, kosher, non-GMO, clean, soy-free, dairy-free, and provides 10 grams of protein. They have so many products and in what seems like any flavor imaginable! Additionally, I love that they are plant-based bars that provide just as much protein and energy as other brands. Secondly, I am obsessed with Joolies products. Their products are made from guaranteed fresh Medjool dates. Dates are the perfect guilt-free sweet treat or sweetener with no added sugar and a low glycemic index. Additionally, dates are an amazing source of dietary fiber, magnesium, and copper. Joolies have whole or pitted dates, and they create a date syrup available in cool flavors like blueberry, cocoa, cinnamon, or original. Next, I was so excited to try 8th Wonder Superfood Tea. I tried the 'At Ease' and 'Loosen Up' teas and they were amazing. I also tried incorporating Seed products into my everyday eating/drinking this week. Their probiotic products help improve gut health, digestive health, supports the immune system, promote heart health, reinforces healthy skin, and so much more! Lastly, a long-time favorite brand of mine, Smart Sweets are an amazing sweet treat at home or on the go. Their products are mostly plant-based candy (except for their fruity gummy bears, sour gummy bears, and regular gummy bears that contain gelatin). But their Sweet Fish, Sour Blast Buddies, Peach Rings, Sourmelon Bites, Red Twists, and Lollipops are all 100% plant-based and vegan friendly! Additionally, I love that it is a female-owned business!